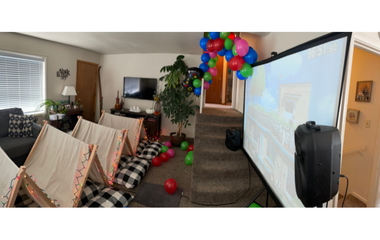 Slumber Party Experience
Our slumber party experience is perfect for birthdays. Keep the kids entertained for hours. If you're up to it, you can pull an all-nighter!
This package comes with everything you need for a successful party:
-4 tents and sleeping pads
-Giant indoor movie screen
-Movie projector
-2 powered speakers
-Nintendo Switch with 4 controllers and games
We will come to your house and set up the screen, projector, and speakers. You choose where you set up your tents and how you want to decorate!
If you'd like, you can also hook up a DVD player or streaming device to the projector to watch movies.